Backyard Wedding …
On a beautiful, warm June Saturday, under a stunning blue sky, Philly & Matthew gathered closest friends and family members, and wed in a beautiful backyard wedding. A lot of times outdoor weddings are risky because of the weather, but after a huge storm passed through the day before, their wedding day was perfect for a backyard wedding event. They incorporated hanging lanterns, and mixed in champagne, orange, and royal blue colors with accents of sparkly through sequin rhinestones and Swarovski Hanging crystals. We provided a beautiful manzanita tree rentals that are rarely found in Chicago area.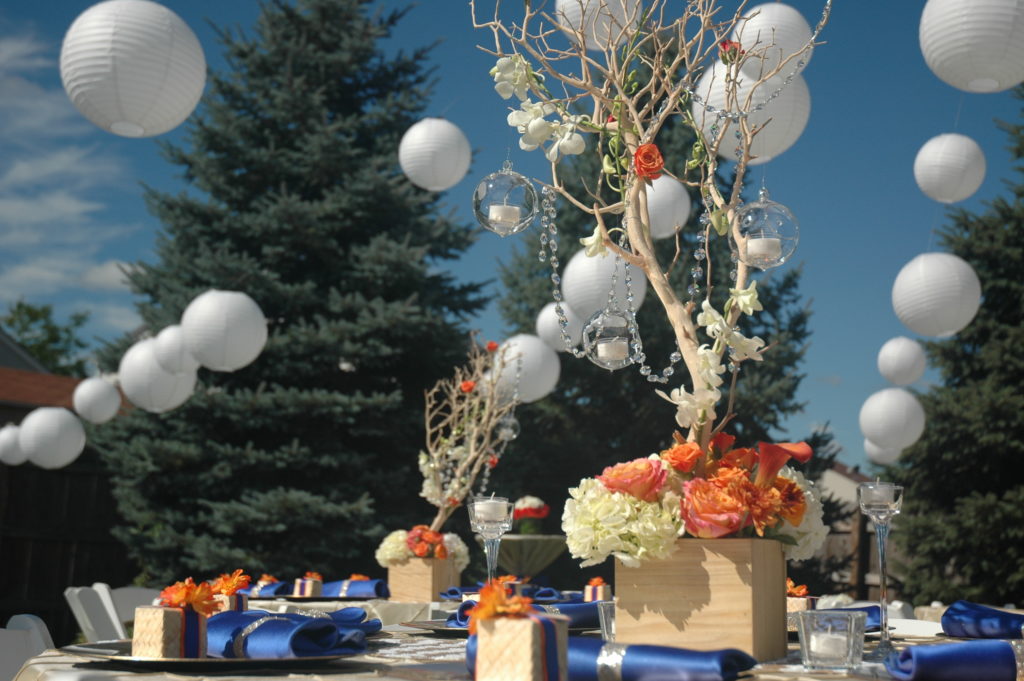 My vision for this event was delicate Manzanita tree rentals in Sandblasted shades as the Bridal party resides in Florida and they wanted to have a piece of a beach wood on their tables. It was absolutely a perfect combination with beautiful and delicate champagne pin-tuck linens, sequin runners with a specific design and touches of golds and navy blue. The combination of orange tones with blues and golds made a perfect arrangement for this backyard wedding. 
To make the space look even more interesting, the bridal party setup hanging lanterns in white. They added an interesting element to the whole decor. This creative move transformed a standard backyard into an outdoor venue.
For floral designs, we used beautiful combinations of orange, pink, and white tones. These colors brought out the beautiful texture of the wood and sanded branches. We added sparkling crystals and hanging candles to the overall look. Hope you enjoy looking at this interesting combination of textures and colors. 🙂
Venue: Family Home
Flowers: AGS Event Creations
---
AGS Event Creations specializes in wedding decorations, wedding centerpiece rentals, decor rentals, wedding flowers, Chuppah rentals, canopy rentals, manzanita tree rentals, candelabra, rentals party rentals, chair cover rentals, luxury weddings, and floral designs for weddings and special events throughout the Chicago area, including Highland Park, Northbrook, Skokie, Glenview, Kenilworth, Glencoe, Riverwoods, Libertyville, Wilmette, Winnetka, Highland Park, Lake Forest, Buffalo Grove, Inverness, Barrington, Kildeer, Schaumburg, Rosemont, Arlington Heights, Oakbrook, Deer Park, Chicago, and surrounding areas. Call us today at (773) 865-6706 and let us know how we can help you have an incredibly beautiful, memorable and special event.`