Candelabras bring romance and beauty to any design. They can make an amazing statement as a centerpiece. Our candelabra rentals can be designed in a variety of ways from simple candles to lush cascading greenery to an eye catching top design.These candelabras will ad a luxury to your design, especially if you have a long king or family table. Adding these candelabras in between other centerpiece rentals can truly make a huge statement. These can also become part of your ceremony decor by placing them on white columns down the aisle.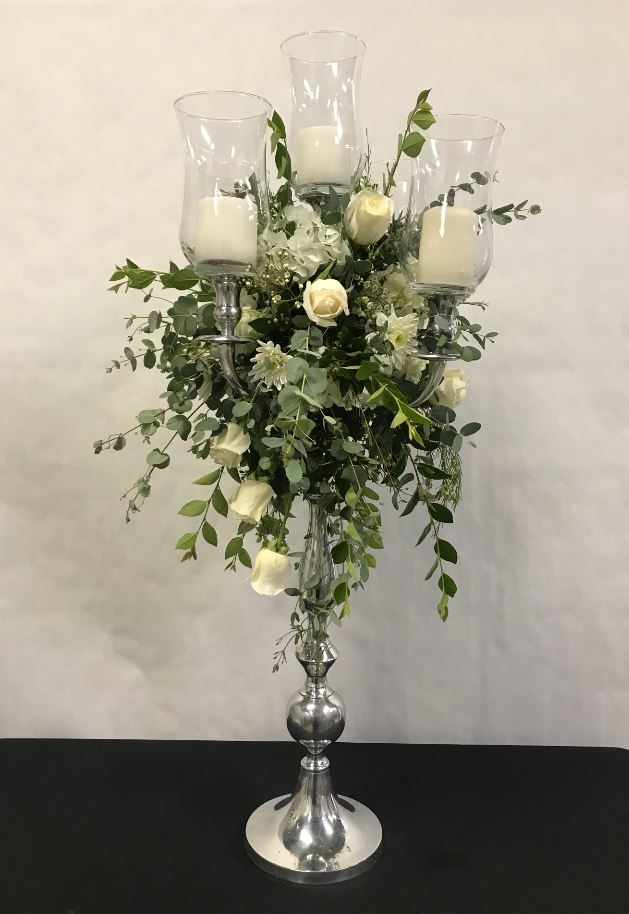 Candelabra
Rental Fee: $50.00* (includes candles)
Candelabra with florals
Rental Fee: $125.00+* (includes candles)
(As pictured – priced at $125)
Available Colors: Gold or Silver
---
AGS Event Creations specializes in wedding decorations, wedding centerpiece rentals, decor rentals, wedding flowers, Chuppah rentals, canopy rentals, manzanita tree rentals, candelabra, wedding party rentals, chair cover rentals, luxury weddings, and floral designs for weddings and special events throughout the Chicago area, including Highland Park, Northbrook, Skokie, Glenview, Kenilworth, Glencoe, Riverwoods, Libertyville, Wilmette, Winnetka, Highland Park, Lake Forest, Buffalo Grove, Inverness, Barrington, Kildeer, Schaumburg, Rosemont, Arlington Heights, Oakbrook, Deer Park, Chicago, and surrounding areas. Call us today at (773) 865-6706 and let us know how we can help you have an incredibly beautiful, memorable and special event.
Contact Us form photo credit: Nicole Jansma Photography