How Much ?
Wedding flowers – that's what makes a statement to any wedding space design. But sometimes wedding flowers can be very expensive and our visions can be outside of our budget. At AGS Events, we work with Chicago area brides and grooms and a wide range of budgets by offering luxury fresh floral wedding flowers and high quality premium silk flowers. Additional decoration such as
chair rentals
,
backdrop
, candle holders, candles and such always will increase the cost of your decor.
Our floral design prices vary based on the detail needed to execute a design. The price does not depend on the size of the wedding but on the actual design, the elements needed to complete it and types of silk flowers used. You may view our services page for general pricing details regarding what rental items costs with our company or visit our Party Rentals section if you want to get a general idea of the cost. 
---
Did You Know: The average cost of wedding flowers & decor for wedding today is typically between 10%-15% of the total wedding budget.
---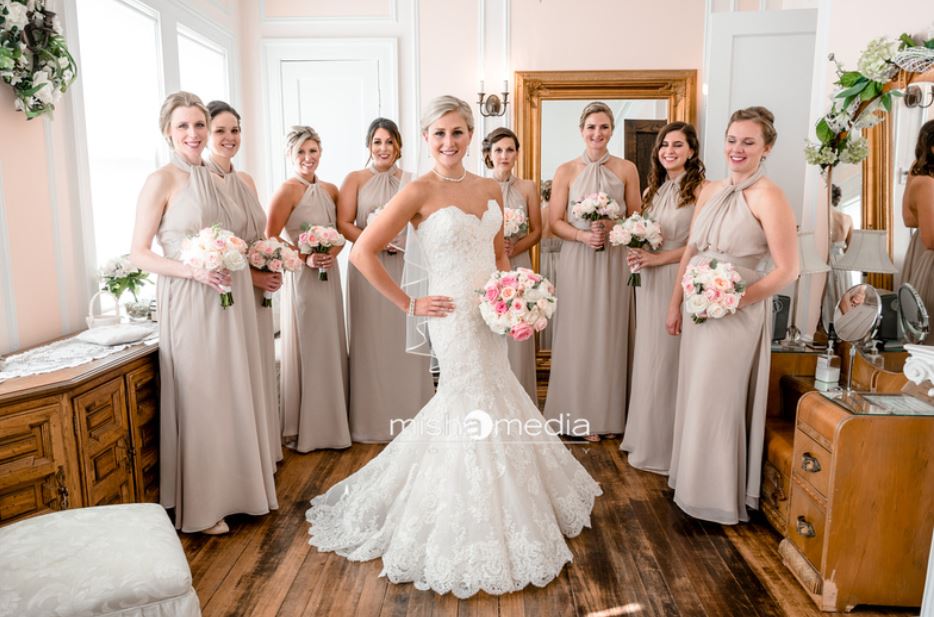 A La Carte Pricing Menu
Bridal Party Flowers
Bridal Bouquet – $150-$500 
Bridesmaid Bouquets – $75-$125
Junior Bridesmaid Bouquets – $45-$55 
Flower Girl Posies/Rose Pedals – $10 
Flower Girl Kissing Balls – $55
Floral Crowns – $45+
Ladies' Corsages – $25
Men's Boutonnieres – $12.50
Ceremony Décor
Aisle Runner Disposable – $65
Aisle Runner Cloth – $250
Altar One Sided Arrangements – $150
Altar All Sided Arrangements – $175
Blessed Mary Bouquets – $50
Pews / Chair Décor – $10-$25
Column Rentals – $25 – $175
Chuppah Rental – $300
Chuppah Silk Flower Arrangements – $50+
Chuppah Fresh Flower Arrangements – $50+
Chuppah Flower Curtains – $150+
                                                   Aisle Rose Petals – $150+                                             
Reception Décor
Cake Table Décor – $25+
Cake Flowers – $15 – $100
Cocktail Table Décor – $15+
Place Card Table – $75+
Low Table Silk Centerpieces – $30-$50
Low Table Fresh Floral Centerpieces – $75 – $150
Elevated Table Silk Floral Centerpieces – $60 – $120
Elevated Table Fresh Floral Centerpieces – $175 – $1000
Candle Holders – $5+
Greenery Garlands – $15/foot – $25/foot
Votives – $2 each
Candles – Floaters 3″ – $2 each
Candles – Pillar – $5+ (Depending on size)
---
AGS Event Creations specializes in wedding decorations, wedding centerpiece rentals, decor rentals, wedding flowers, Chuppah rentals, canopy rentals, manzanita tree rentals, candelabra, party rentals, chair cover rentals, luxury weddings, and floral designs for weddings and special events throughout the Chicago area, including Highland Park, Northbrook, Skokie, Glenview, Kenilworth, Glencoe, Riverwoods, Libertyville, Wilmette, Winnetka, Highland Park, Lake Forest, Buffalo Grove, Inverness, Barrington, Kildeer, Schaumburg, Rosemont, Arlington Heights, Oakbrook, Deer Park, Chicago, and surrounding areas. Call us today at (773) 865-6706 and let us know how we can help you have an incredibly beautiful, memorable and special event.
Contact Us form photo credit: Nicole Jansma Photography